Corporate / VIP Entertainment – USA
Corporate Entertainment / VIP Event Entertainment – USA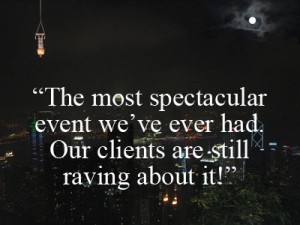 Are you looking for international award-winning corporate entertainment or VIP event entertainment that:
Is completely original
Is thoroughly entertaining irrespective of demographics, language and culture
Has 20 years proven success throughout all facets of the entertainment industry, and
Delivers the 'wow factor' that will impress even the most jaded stakeholders and guests?
Then here's why you should book Robert Gallup's Extreme Magic & Deadly Escapes for your next corporate / VIP event…
---
Why book…
In addition to producing the second largest international touring magic show in the world, and dozens of international television shows and appearances annually, Gallup and his USA, Australia and Asia based production teams produce, stage and perform numerous large-scale amazing corporate entertainment and VIP events worldwide.
Combining his trademark dangerous magic, intense physical illusions, comedy magic, and legitimately death-defying escapes, Robert Gallup and his "extreme team" deliver:
Spellbinding one-of-a-kind VIP event entertainment for exclusive gala dinners for presidents, prime ministers and celebrities
Stunning original corporate entertainment for conventions, conferences, awards nights and trade shows
Spectacular large-scale corporate product launches,
Media events and publicity stunts that garner national and international media exposure.
SAMPLE USA MEDIA QUOTES AND REVIEWS
DOWNLOAD CORPORATE EVENT ENTERTAINMENT FLYER
---
A sample list of corporate clients and VIPs that have been entertained by Robert Gallup's extreme magic and deadly escapes in the U.S. include:
President and Mrs. George Bush (Sr)
President and Mrs. Ronald Reagan
Russian Foreign Minister, Mr. Andrea Kozyrev
British Foreign Secretary and NATO secretary General, Lord Peter Carrington
Director of the CIA, Mr. Robert Gates
General Brent Scowcroft
Michael Jackson
Cher
Britney Spears
American Express
American Standard Companies
Atlantic Richfield Company
Blue Bell Creameries
Chubb Corporations
Coca Cola
Continental Airlines
Enron Corporation
Ford Motor Company
Motion Picture Association of America
Occidental Oil & Gas
Pacific Brokerage Services
Paine Webber Group
Philadelphia Eagles Football Team
Philip Morris Company
Resinoid Engineering
Spraying Systems
Sun Microsystems
Victorinox-Swiss Army Knife Foundation
Visa
World Trade Center Detroit/Windsor
Contact us today to discuss how our 20 years of international award-winning live event and television production experience can be integral to the success of your next corporate / VIP event.